Unable to properly open Office template (Excel, Word, PowerPoint)
In some configurations, you may have difficulty opening a template correctly with Excel, Word, or PowerPoint.
Symptoms
The Office file opens outside of the Qalyptus template editor with an error message : "We cannot open the Powerpoint/Excel/Word template …"

The Office file opens in the template editor, but it does not display correctly and does not take up all the space reserved.
Environments
Qalyptus Desktop
Cause
The error occurs with newer versions of Office or with high screen resolution.
Solution
The solution is to change the compatibility properties of Qalyptus Desktop.
Please do the following:
Close Qalyptus Desktop
Locate the Qalyptus Desktop program(usually on the desktop. Or in the windows start menu, search for Qalyptus Desktop, right-click, then choose Open file location)
Right-click on the program
Choose Properties
Go to the Compatibility tab
Then follow the steps in the image below
If you can see the button "Change high DPI settings"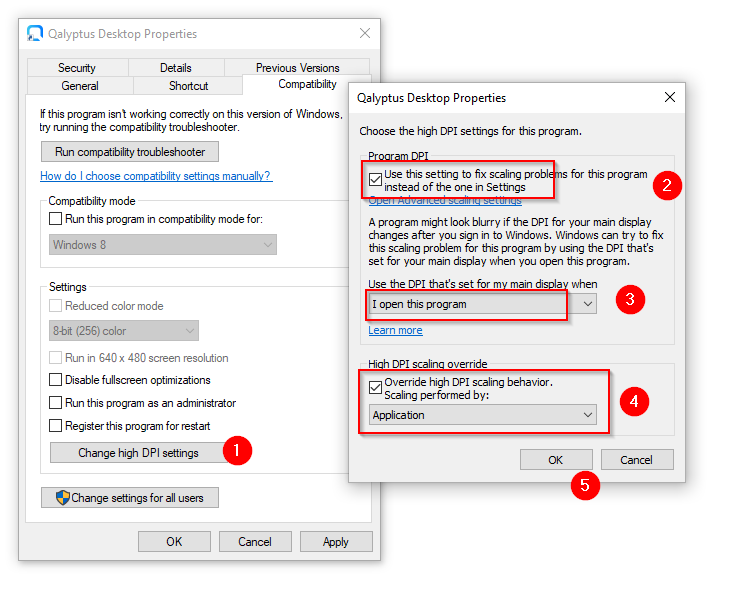 If you don't see the button "Change high DPI settings"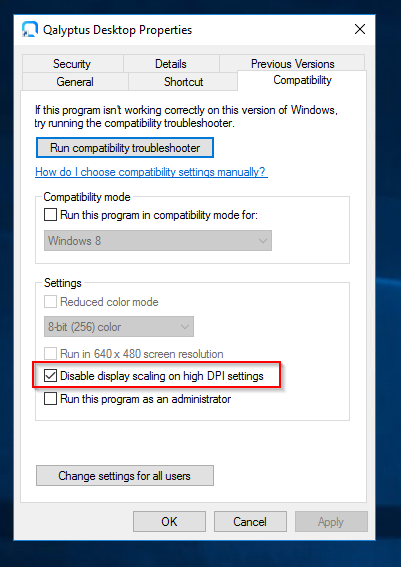 If the option "Disable display scaling on high IDP settings" is already checked, uncheck it, then check it again.
If the option is disabled, click "Check settings for all users" to make it editable.